Precision CAD Perfect for Use throughout an Organization
Because of Graphite's superior ease of use and adaptability, it can be deployed further throughout an organization. No longer will your most creative thinkers resort to pen and paper just to get the job done. Graphite is ideal of those needing extremely powerful precision wire-frame 2D and 3D drafting that's easy enough to use even on an occasional basis.
Full Drawing Software Works with Your Markup Program
Graphite is not a review and redline program like Actify's SpinFire or Cimmetry's AutoVue. It is a full drafting package that can be used in collaboration with these programs for consistency across your organization.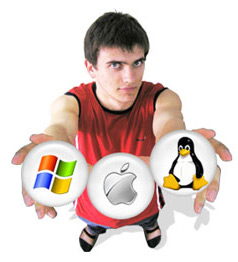 Choice of Platforms: Mac, Windows, Linux or iPad
No longer will the Mac people fight with the Windows people and gang up against the Linux crowd. Graphite supports them all with interchangeable file types. Users can switch versions at no additional cost. Linux version is available exclusively for Graphite Enterprise clients at the Corporate and Global level. iPad version is available exclusively for Graphite Enterprise clients at the Global level only.
Upgrades Included
Both service pack updates and major upgrades are included in the annual fee. All new releases can be downloaded from the website. For an additional fee, DVDs can be shipped to designated locations.
2D & 3D CAD Support for 10 Languages
A single installer for Graphite Enterprise supports ten localized languages including:
English (US)
English (UK)
French
German
Italian
Portuguese
Swedish
Spanish
Japanese
Russian
Languages can be changed at runtime without re-installing.
Click here to learn more about Graphite precision drafting software.
Easy deployment of CAD through out your organization