Computer-aided drafting the way
it should be.™
New Update Installer
Graphite v8 precision CAD features a new installation program that lets you quickly check to see if a new update is available from the website, then download and install just the update, not the entire program.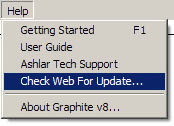 This allows you to:
Keep your designated Preferences
Keep your registration code in place
Download smaller files
Update your software with less effort
In the Graphite v8 Help menu a new item is added called Check Web For Update. Click it and Graphite links to the Ashlar-Vellum website to see if a new build of the software is available as a free update. It's a much easier way to keep Graphite up to date.
---
Click here to read full list of Graphite CAD v8 features.