Computer-aided drafting the way
it should be.™
Greater Usability Enhancements
Enlarged Text for User Interface Items
Graphite v9 offers enlarged fonts for the text on snaps, message and status lines, dialog boxes and other user interface items.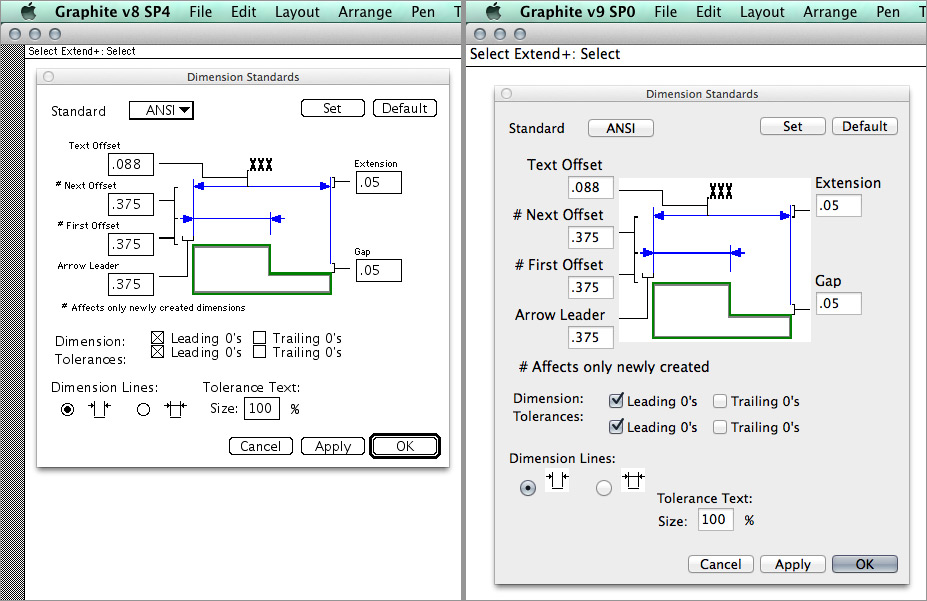 Updated & Enlarged Icons
Graphite v9 offers both standard and enlarged icons include a new updated set in our improved tool palettes.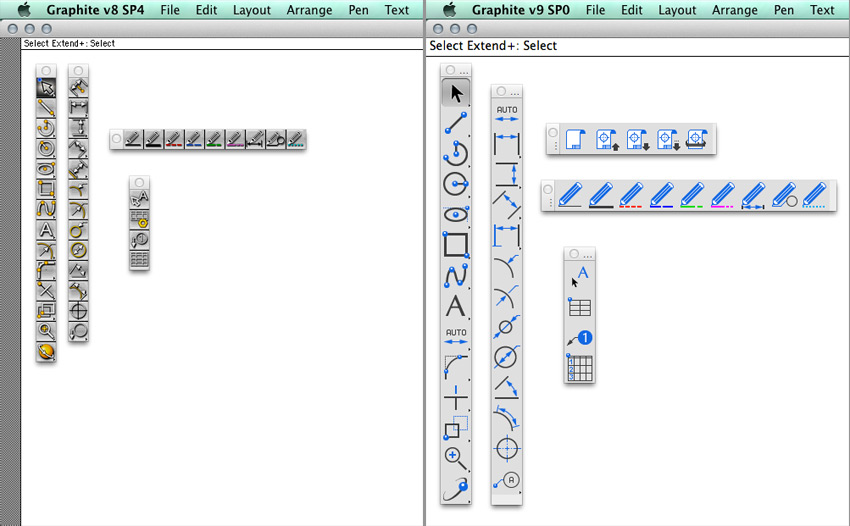 Tool Tips
These terrific tools remind new users what each tool does.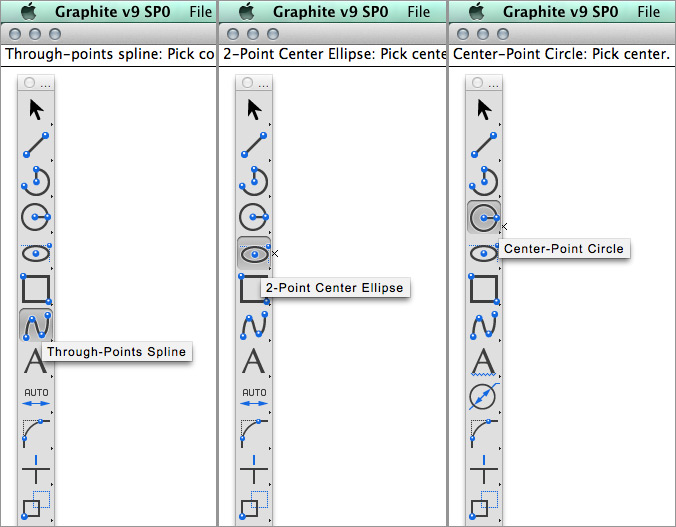 Help Tool Hyperlink
Every tool tip hyperlinks to the appropriate page in the PDF documentation for more information about that tool.
Visual Assistance
Cursor
There are now three cursor options: Standard Size, Double Size, and System which allows the use of assistive technologies like Apple's Accessibility tools and Microsoft's Ease of Access Center.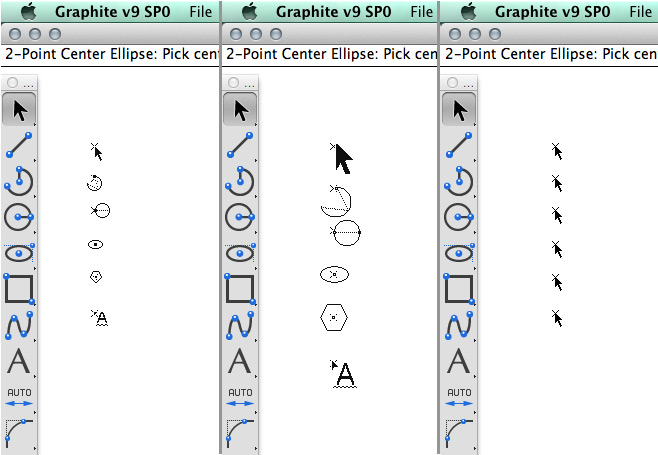 Scaled Line Weights
Now when using very high resolution monitors, drawing line weights can be appropriately scaled up (2x or 4x) for better visibility.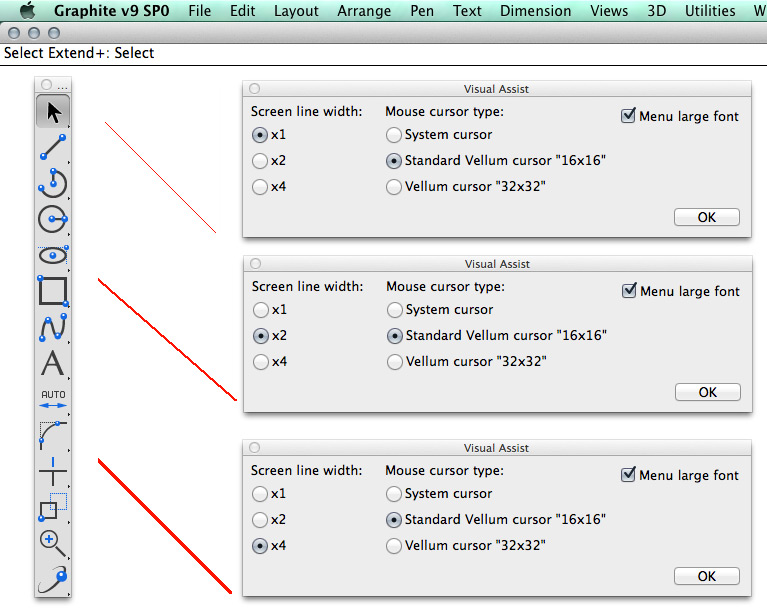 Font Menu
The fonts on the Graphite top-level menu can be double sized for easy viewing. (Windows only.)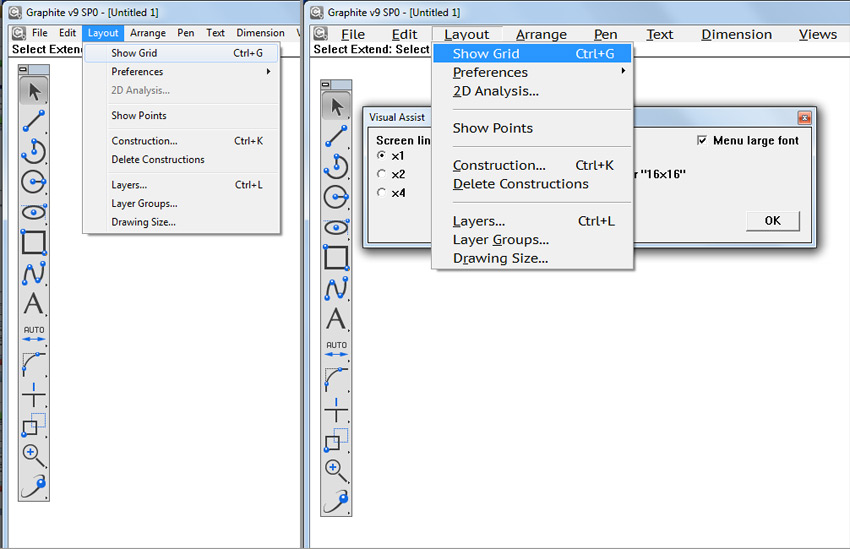 New Features & Functions
General Function Tool Palette
A new tool palette with functions like Open, Save, New and Print has been added so these functions can be quickly found on high resolution screens.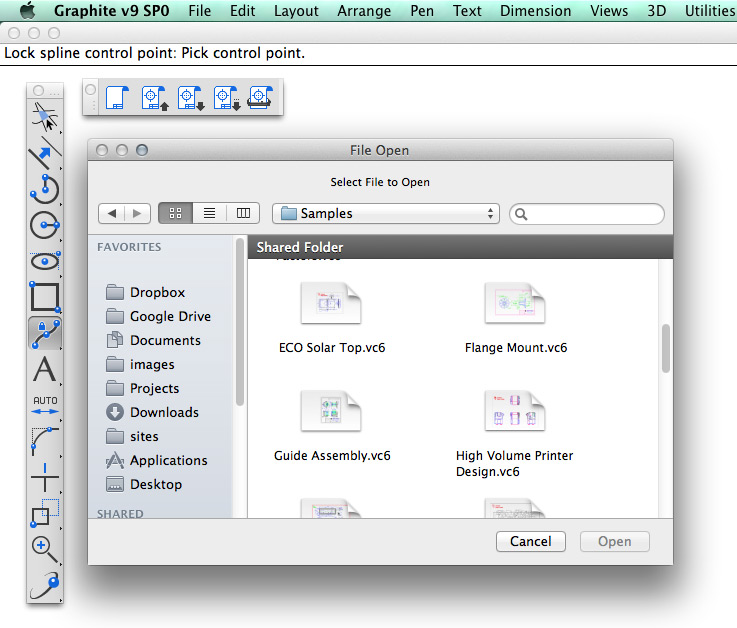 New Construction Line Tool Icon
The main tool palette now sports a new icon so that construction lines are easier than ever to add to your drawing.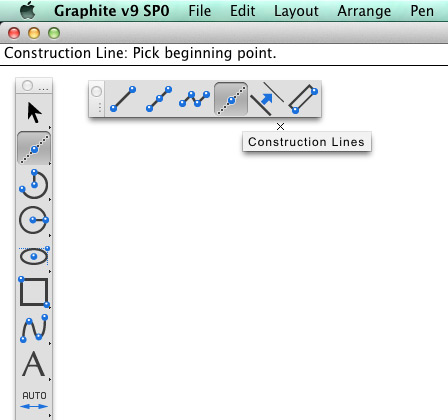 Infinite Grid and Construction Lines
Now the grid and construction lines are both endless.
Copy Item by Path Function
This new function lets you duplicate an array of objects along a spline or other designated path.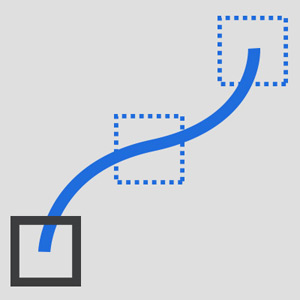 Stretch Tool
This new tools stretches selected entities along an axis.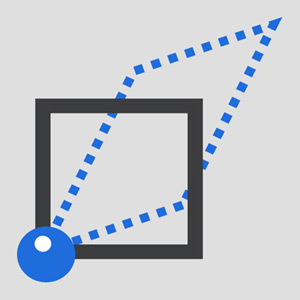 Visual Color Selection Palettes
The Edit Object Dialog boxes now sport color palettes in addition to the old drop down lists for color selections.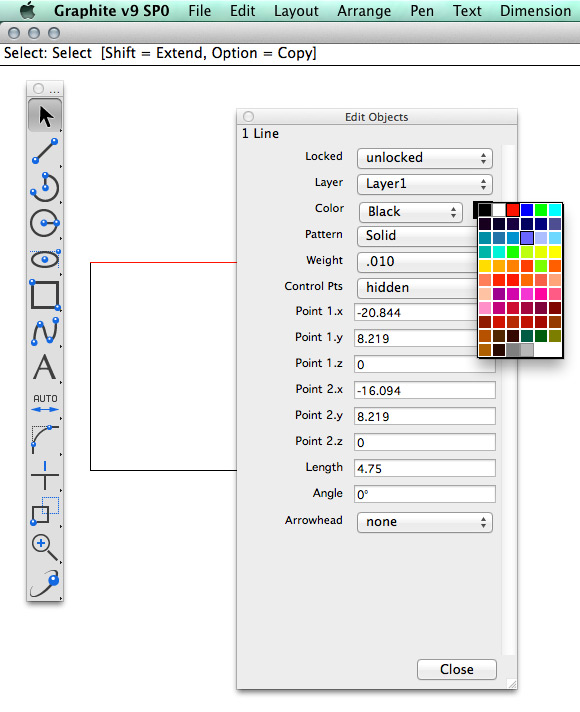 Drag & Drop Re-ordering in Layers, Sheets, and Models dialogs
Now within the dialog boxes layers, sheets and models can all be easily re-ordered by simply dragging and dropping at the desired location.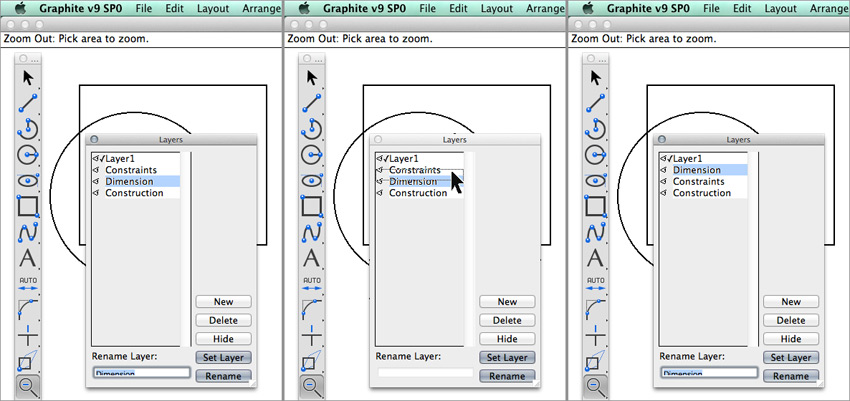 Increased Redraw Speed
Redraw Interrupt
Now the entire screen does not have to draw with each zoom movement of the scroll wheel. Zoom in a little with the mouse. As the screen starts to redraw, move the mouse wheel again to refine the zoom level without having to wait for the entire screen to redraw each time.
Grid Display
Pans, zooms and moves are now all faster even when the grid is turned on.
Import Export Enhancements
Latest DXF/DWG Support
Support for importing and export the latest versions of DXF/DWG are included in v9 including 2010, 2012 and 2013.
PDF Import
Now 2D PDFs can be imported and opened in Graphite v9.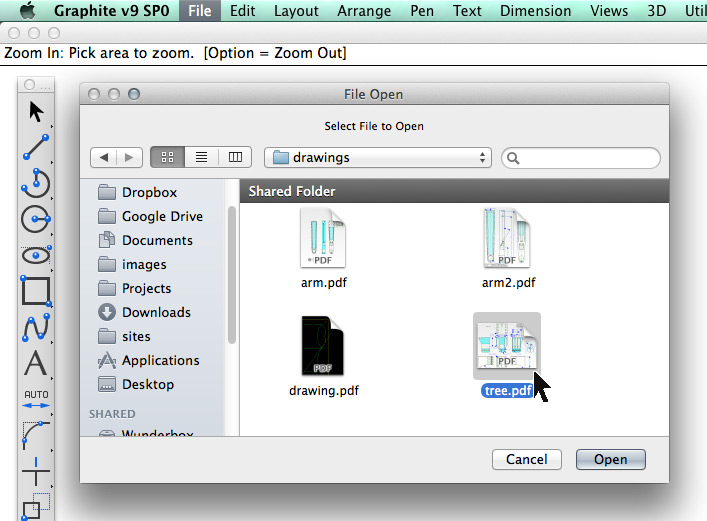 PDF Large Size Export
Graphite v9 can export files to PDF's largest size of 200in × 200in (508cm × 508cm.)
Drawing Size Window Supports PDF Page Size
Within Graphite v9 PDF pages sizes are now defined within the Drawing Size Window and are completely independent of the printer. In addition, each Graphite sheet can have it's own print size and area and PDF page size and area.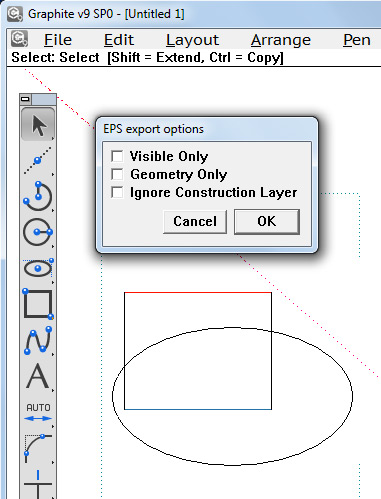 International Enhancements
Unicode Core Base
Unicode allows Graphite to support multiple languages, fonts and alphabets within the same CAD file, as well as assures that languages compiled and updated together into one version.
Support for 11 Languages
Graphite v9 now has full support for 11 different languages:
English (US & UK)
French
German
Italian
Japanese
Portuguese
Slovak
Spanish
Swedish
Russian
Ukrainian
Support for Hebrew Typing
Graphite v9 now supports the right to left typing of Hebrew. (Windows only)
Support for Files from Pirated Versions of Graphite and Vellum
Customers who unwittingly purchased software based upon stolen versions of the Graphite and Vellum code base can now be welcomed back into the Ashlar-Vellum fold using Graphite v9 to read their old files.