Vellum:decals is a set of commonly used decals that saves time when rendering computer-generated 3D modeled object on both Mac and Windows.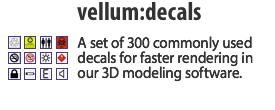 Vellum:decals has over 300 designs for use with Ashlar-Vellum Cobalt™, Xenon™ and Argon™, including:
AV
computers
digital
hazard
keyboard
recycle
shipping
signage and telephone
See the full list of decals for 3D modeled images.
The Vellum:decals library is now available for purchase online, by calling Ashlar-Vellum directly at +1 800 877-2745, or from Ashlar-Vellum resellers worldwide.