Vellum:materials is a collection of prototype surfaces and finishes that reduces the amount of work involved in rendering virtually any kind of object created in Cobalt™, Xenon™ or Argon™ 3D modeling software. From kitchen countertops to medical instruments find the material that suits your photo-realistic rendering needs.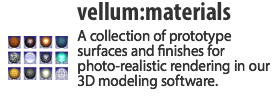 This new library of natural and manmade materials and finishes features over 300 choices on DVD, suitable for both Mac and Windows. The collection includes wide selections of ceramics, metallic paints, plastics, metals, fabrics, woods, leather, glass, and much more.
Samples are suitable for use on architectural forms, furniture, industrial products, art objects, new product designs–nearly anything that can be conceived using Ashlar-Vellum's Designer Elements™ 3D modeling software products. See the full product listing of materials for 3D renderings.
The Vellum:materials library is now available for purchase online, by calling Ashlar-Vellum directly at +1 (800) 877-2745, or from Ashlar-Vellum resellers worldwide.