Sound Tracks for CAD-generated Movies
Tired of silent CAD- and 3D-generated movies? Don't want to steal music? Here's the perfect solution for the CAD professional from people who understand your 3D modeling needs.
Now you can access royalty-free soundtrack music to enhance the presentation of your CAD and 3D modeled movies on Mac or Windows. With the use of an audio editing program you can simply edit Vellum® Tracks™ to the appropriate length and then drop the track(s) into your movie.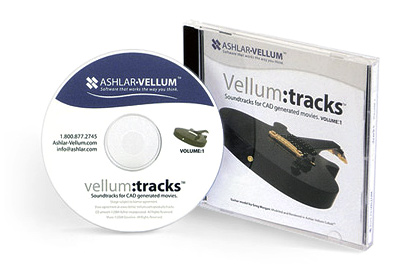 13 Unique Tracks. Listen…
Engineered by Larry Graves at Manneq Studios, Austin, Texas. Mastered at Terra Nova Studios, Austin, Texas.
The music is cutting edge with an edge, well suited to complimenting modern 3D CAD designs. I appreciate having such royalty-free tracks on hand to augment CAD presentations.

John Schussler
This Vellum Tracks™ disc, written and recorded by Devolver Music, provides you with a wide array of music styles and audio sounds. Mix and match tracks to produce just the right effect for your movie.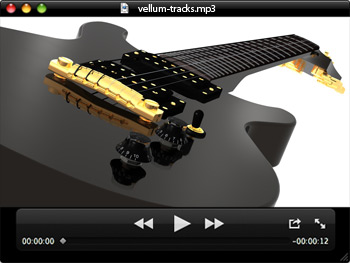 Devolver Music is a soundtrack production company and band that performs in Austin, Texas. Some tracks on this disc were written specifically for the Vellum Tracks project, others have been culled from years of recording work. An emphasis was placed on making this compilation listenable as an album and workable as support for CAD movies. We hope you find these tracks to be unique sounding and invaluable to your presentations.
Vellum:tracks v1.1
US $100.00
Buy
DVD disc
Vellum:tracks v1.1
US $93.81
Buy
E-only
Vellum:tracks
US $200.00
Buy
Site license DVD
Vellum:tracks v1.1
US $193.81
Buy
Site license e-only
All tracks written, recorded, and produced by Devolver Copyright © 2004 Devolver Music. Contact Shane Walker at cshanewalker@yahoo.com for information on licensing any of this music for use other than the enhancement of CAD movies.