The ultimate 3D modeling product design and development tool.™
New Update Installer
Cobalt, Xenon and Argon 3D modeling programs feature a new installation program to quickly check the website for newly available updates. Using this feature under Help → Check Web for Updates… downloads and installs just the update, not the entire program.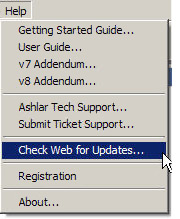 This allows you to:
Keep your designated Preferences.
Keep your registration code in place.
Quickly install patches.
Download smaller files.
Update your software with less effort.
It's a much easier way to keep your software up to date.
---
Click here to read full list of Cobalt 3D Modeling v8 features.