All Ashlar-Vellum computer-aided drafting and 3D modeling programs require a serial number and registration code in order to unlock the software.
Included here is help for: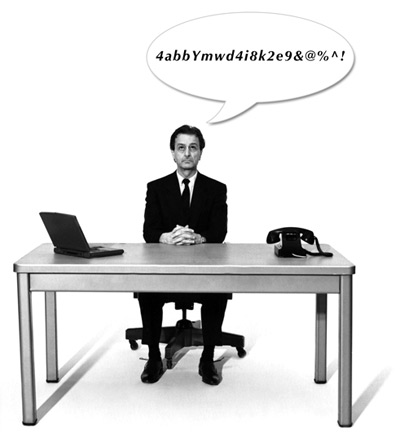 How to Get a Demo Code
Trial registration codes and serial numbers for our CAD and 3D modeling programs are provided upon request to run our demonstration software.
Please send all contact information, including name, company name, address, telephone number and fax in an email to codes@ashlar.com. A two-week code will be provided with full contact information. A 2-day code is given if full contact information is not included. Be sure to include which CAD or 3D modeling product(s) you'd like to demo.
Please note that all codes are issued by hand. They are not auto-generated. While we monitor demo requests about 18 hours per business day and frequently over the weekend, it may take several hours before a code is issued to you if you send a request in the off hours.
Trouble Using Registration Codes
My Code Doesn't Work
When codes don't work it's usually one of the following:
Use Copy and Paste
Always copy and paste the serial number and then the registration code into the appropriate fields. (Mac: ⌘ + C, ⌘ + V; Windows: CTRL + C, CTRL + V.) Using copy and paste (making sure that you don't capture any additional spaces or carriage returns) solves 95% of the issues with Ashlar-Vellum CAD & 3D modeling registration codes.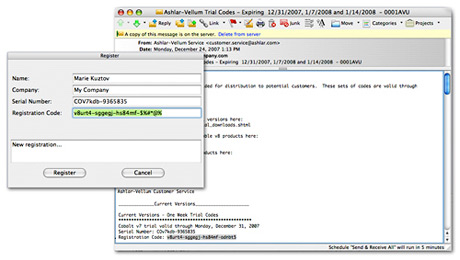 Match the Registration Code, Serial Number and Version
Be sure that you're using the matching registration code with the designated serial number for the correct version of the CAD or 3D modeling software. Each major version upgrade requires a new serial number and registration code to run. Serial numbers and registration codes are tied to each other and cannot be interchanged among users.
Are you a Student or Teacher?
See the section below on Student Teacher Unit Codes.
About Permanent, Rental and Student Codes
All codes for Ashlar-Vellum CAD and 3D modeling software are sent via email. If you've recently purchased or requested a demo code and not received you codes, check your junkmail file.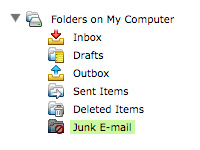 Permanent Codes
A permanent registration code and serial number is issued upon payment for the purchase of a permanent license. Whether you purchase through a reseller, over the website or directly via telephone from Ashlar-Vellum, your order is processed by the team in our European office and for US customers codes usually arrive via email the next business morning. It may be possible to issue you a temporary code in the interim period if really necessary. Contact Ashlar-Vellum customer service during normal business hours (9-5 US Central Time) at +1 800 877-2745 ext 2.
Rental Codes
Temporary rental codes are issued via email on a monthly or yearly basis depending on your rental selection. If you are having trouble receiving these codes, check your junkmail file. Also be sure that the email address that you are checking is the same email address that you provided when starting the rental.
Student Teacher Unit Codes
All STU licenses are activated with a registration code that expires in November of the following year. Active STU users must re-verify their eligibility for an STU license each autumn to receive a new registration code. Licenses may be renewed for three years free of charge, provided the user still qualifies as a student or instructor of design. Software licenses more than three years old will be renewed for a maintenance fee if the software is still current or must be upgraded to a later version if three or more years of date. To renew your eligibility, fax or email a signed STU pre-ship agreement and proof of faculty status or student enrolment (usually a copy of your CURRENT faculty or student ID) to Ashlar-Vellum at +1 512 250-5811. New codes are usually issued within about 24 business hours.